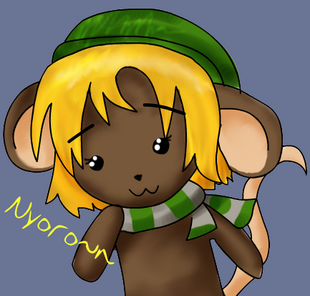 Mouse Name Laaggg
Real Name Megan
Location Michigan, USA
Gender Female
Age 21
Birthday November 29th, 1990
A Bit About Megan
Edit
Megan is a working class hero of Michigan. She holds a minimun wage job at a local thrift store which in which her enjoyment of it fluctuates from time to time. While she is a bit unsure of the path she would like to take with her career, she is currently looking towards marketing. Although a catering business does sound enjoyable at this time as well. Megan has recenlty picked up roleplaying as a hobby, once again. If she is afk, that is most likely what she is doing - that nub. Often times, she has no problem with sharing infromation that might be a little too personal. Currently in a relationship with her long time friend Artur.
History with Transformice
Edit
The account Laaggg was created August 19th, 2010. It was originally created to troll with, but that idea soon fell away once Megan started using the account more and more. Megan's first account was actually Peol. That is now used more to troll than Laaggg is. Megan's discovery of Transformice was through Awkward Zombie, a forum that she forever lurks at as Peol.
"I'm not always pro, but when I am its usually something done purely out of luck"
The thing that Laaggg is known the most for is her tendancy to be forever afk. Megan is just not too good at playing the game for a long duration of time before getting distracted by something else.
The first person that she stalked befriended on the game was Optimousep and since that meeting, has been hanging out in room 12 for a majority of her time. She remembers quite a few changes that took place, including the addition of tribes and map editor. It is also her quest to get all the items in the shop. If only she spent more time gathering cheese and less time afking.
Was a member of Automice (1)
Was a member of Tiffanys
Was a member of Automice (2)
Is a memeber of VROOM
Her famous quotes include:
 • [Laaggg] take it up the butt